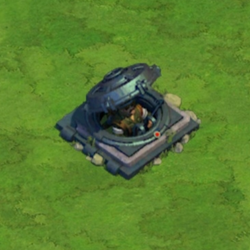 "Two extra soldiers will pop out by surprise when an enemy reaches this trap."
General Information
Edit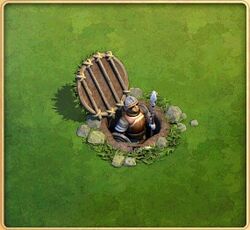 The Ambush Trap is a Defensive Building that produces 2/3 troops(depending on the level) when an enemy gets too close.
It's a one time use and has to be re-armed after you're attacked(if it was triggered during the attack).
Defensive Strategies
Edit
You can put the Ambush Trap in front of the Ballista/Cannon Tower so when enemy troops come near it such as Heavy Cavalry, the soldiers will distract the Heavy Cavalry, giving the Ballista/Cannon Tower more time to fire.
You can also put it within the radius of Angkor Wat, combined with healing power, they would fight longer.
It's also effective to put two or more next to each other so they distract the enemy longer.
Statistics
Edit
Level
Build Cost
Re-Arm Cost
Upgrade Time
Citizens Needed
Ambusher Type
Amount of Ambushers
Experience Gain
Age Unlocked
1
40,000
 ?
0s
1
Phalanx
2
-
Classical Age
2
80,000
 ?
1d
Pikeman
520
Medieval Age
3
250,000
 ?
2d
Halberdier
760
Gunpowder Age
4
400,000
 ?
3d
Fusilier
3
950
Enlightenment Age
5
750,000
?
4d
Shock Infantry
4
1,115
Industrial Age
6
1,500,000
?
7d
Assault Infantry
4 (5[1])
1,515
Global Age
7
2,500,000
?
9d
Elite Infantry
1,740
Atomic Age
8
3,600,000
?
10d
Valiant Infantry
1,845
Cold War Age
↑ The Deception Technology Chapter 3 at the Library increase the number of ambushers by 1.