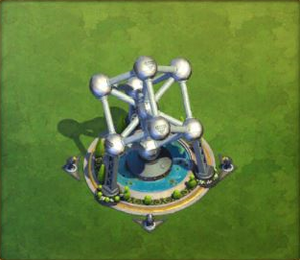 "Reduces University skill research time by 10%. Activate to reset all other Wonder cooldowns once per week."
The Atomium is one of four wonders unlocked in the Atomic Age.
On around August 25, 2020, the Atomium wonder was replaced with the Space Needle. The switch was due to copyright issues; the wonder's behavior did not change.
Reduces university skill research time by 10%.
Provides a cooldown to Reset Other Wonders once every 7 days
| | |
| --- | --- |
| Size | 5x5 squares |
| University Skill Research Time | -10% |
| Cooldown to Reset other Wonders | 7d |
For building's other statistics see Wonders.
Designed by the Belgian engineer Andre Waterkeyn for the 1958 World's Fair in Brussels, the Atomium is a massive structure shaped like an iron crystal. It served as the fair's main pavilion and symbolized an optimistic faith in a peaceful modern age powered by scientific progress. Though originally intended to be removed after the fair, its popularity induced the Belgians to leave it standing. Five of its nine spheres are currently open to the public. The highest one is a restaurant, rest contain a variety of exhibitions. Visitors travel between spheres via the connecting tubes using stairs, escalators, or (in the central tube) and elevator.
Community content is available under
CC-BY-SA
unless otherwise noted.