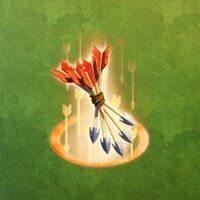 "Bombards an area, dealing moderate damage. Powerful against defending soldiers."
General Information
Edit
Barrage is a Tactic that is unlocked when you first build the War Academy. It inflicts an area-of-effect damage at the location where it is deployed.
It is effective against large groups of defending infantry, but ineffective against cavalry and buildings due to its relatively low damage.
Library / University Boosts
Edit
Researching Battle Tactics, Chapter 2 will give this an extra 10% damage along with Demolition.
Statistics
Edit
Strength

Great vs. plentiful targets (like soldiers).

Weakness

Won't significantly damage 

Heavy Cavalry

 or buildings.

Build Time
35m
Radius
3
Tactics Space
1
| Level | Cost | Damage | Upgrade Cost | Upgrade Time | XP Reward | War Academy Level |
| --- | --- | --- | --- | --- | --- | --- |
| 1 | 2,000 | 510 | - | - | - | 1 |
| 2 | 4,000 | 735 | 475,000 | 23h | 510 | 3 |
| 3 | 5,500 | 1,022 | 1,500,000 | 1d 22h | 745 | 4 |
| 4 | 7,500 | 1,530 | 2,900,000 | 3d 20h | 1,090 | 5 |
| 5 | 9,000 | 2,036 | 4,275,000 | 7d | 1,515 | 6 |
| 6 | 10,500 | 2,342 | 5,200,000 | 9d | 1,740 | 7 |
| 7 | 12,000 | 2,580 | 6,300,000 | 11d | 1,945 | 8 |