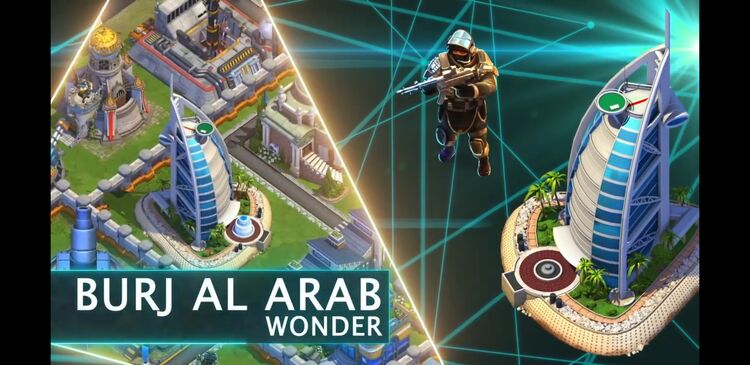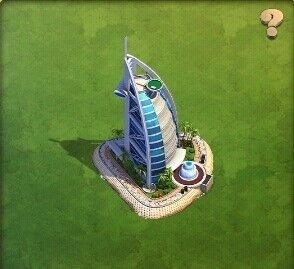 "House placed near the Burj Al Arab reduce the upgrade time of all buildings. This Wonder also produces Spec Ops Infantry that deal bonus damage to Commandos when you are attacked."
The Burj Al Arab is one of four Wonders unlocked in the Information Age.
Upgrade Time Reducation per House : -1%
Defender Type : Spec Ops Infantry
Defenders : 6
Defender Delay : 3s

For building's other statistics see Wonders.
The world's most luxurious hotel may be the Burj al-Arab. Designed by British archiect Tom Wright, the yacht-shaped structure overlooks Dubai and the Persian Gulf from a height of over 1,000 feet. Construction lasted from 1994-1999, much of which was devoted to creating the artificaial island where it stands. Prices for a night's stay range from around $1,5000 for and entry-level booking to $24,000 for the royal suite. For those guests not arriving vi the gelipad, a fleet of Rolls Royces provides shuttle service over the guarded private bridge.
Only 202 room are available, in part because every one is a two-story duolex. Each floor has an army of butlers who perform important serveices like drawing bubble bath and strewing rose petals about while you're away. Among the many amenities are three aquaariums including a giant circular tank in the center of the Al Mahara seafood restaurant. Gold is the dominatnt aesthetic, supplemented by colorful interiors inspired by Islamic art. Overall, the Burj Al Arab is both a legendary exemplar of hospitality and an over-the-top monument to petrostate opulence.
Community content is available under
CC-BY-SA
unless otherwise noted.