"Stores war loot won during World Wars.
Also produces one wave of your nation's unique unit on defense."
General Information
Edit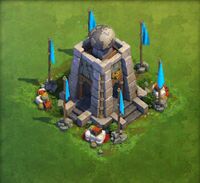 It is unlocked in the Iron Age.
You need to build the Command Post in order to join a World War.
This building is used to store your loot obtained during World Wars.
Take note of the capacity of your Command Post. If your loot from the World War exceeds your Command Post limit, you will lose the excess loot.
If you have loot in your Command Post, be sure to keep it behind Walls, as it is a resource building and can be stolen by attackers. If however, you withdraw(all) your war loot from your Command Post immediately after a World War, it will contain no resources and can be safely placed outside your Walls.
Attackers can steal 8% of the loot inside the Command Post, compared to 25% from a Mill or Market and 50% from a Farm or Caravan. (These percentages seem to vary depending on age and building level.) This is why you should keep the loot inside the Command Post, unless you have enough loot with your War Loot to spend on an upgrade.
It also doubles as a defensive building, deploying your nation's unique unit after 10s during an attack on your base. It only deploys units once per battle.
It starts with your Iron Age unique unit. As you upgrade it, the unique unit will reflect that of the Classical Age, etc.
When you're upgrading the Command Post you can still participate in World Wars and collect loot from it, but it won't spawn troops on defense.
Statistics
Edit
Building Statistics
Edit
Command Post Statistics
Level
Upgrade Cost
Citizens Needed
Upgrade Time
HP
XP Gain
War Loot &
War Loot
War Loot
Age Unlocked
1
70,000
4
-
2,535
?
225,000
500
600
Iron Age
2
500,000
?
2,910
520
525,000
1,000
660
Classical Age
3
700,000
1d
4,095
890
1,100,000
2,000
720
Medieval Age
4
2,000,000
2d
5,760
1,630
1,600,000
3,500
780
Gunpowder Age
5
4,250,000
7d
8,750
3,245
1,850,000
6,500
840
Enlightenment Age
6
6,000,000
8d
9,600
3,495
2,100,000
12,000
900
Industrial Age
7
8,000,000
10d
10,575
3,950
2,400,000
14,500
960
Global Age
8
9,300,000
11d
12,700
4,160
2,600,000
16,500
1,020
Atomic Age
9
10,695,000
11d 12h
14,825
4,780
2,850,000
18,500
1,080
Cold War Age
Defenders Statistics
Edit
Defenders Statistics
No Hellenic Tank available
No Heavy JSDF Soldier available
Combat Rebalance Stage Three made Base Hitpoints and Base DPS of Defending Troops differ from Army Troops.
Added on December 2, 2015, as part of the "World War" update.
Community content is available under
CC-BY-SA
unless otherwise noted.