General Information Edit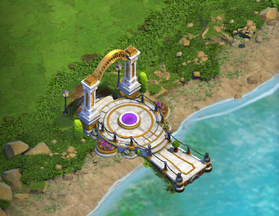 The Crown Dock is a second shipyard that allows you to buy a Crown Pass. A Crown Ship would appear with 100 Crowns each 24 hours after buying a Crown Pass. A Crown Pass last for one week.
Unless you collect the crowns from the Crown Ship, another one would not appear so don't forget to take the crowns from it each day, after purchasing a Crown Pass.
The Crown Dock does not require any upgrade and does not have an age restriction.
As of yet, a crown pass cost US$3.99
Things To Know
Edit
The offers tab will show 200% return on your purchase which does not mean 200 crowns per day but means 100 crowns for 7 days + 100 crowns instantly making a total of 800 crowns across 7 days which is mathematically double of Pile of Crowns ( US$ 4.99 = 500 Crowns).