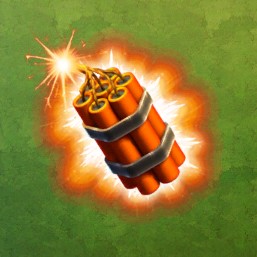 "Causes high damage to a single building."
General Information
Edit
Demolition is a Tactic that is unlocked when your War Academy reaches level 4. It causes high damage to a single building.
Library / University Boosts
Edit
Battle Tactics, Chapter 2 will increase the damage of this tactic by 10%.
Suleiman the Magnificent at the University level 2 increases the damage of Demolition by 1% per skill level.
In World War, a Coalition with the Mongols increases "Tactics Damage" by 15% at level 1 to 35% at Level 7. That is a percent of the base damage, so cumulative with Battle Tactics Chapter 2 and Suleiman. The max overall boost is 55%.
Statistics
Edit
Strength
High damage to a single building.
Weakness
Only affects 1 building.

Deals 85% less damage to storage buildings and Town Centers.

Build Time
35m
Tactics Space
1
Level
Cost
Radius
Damage
Upgrade Cost
Upgrade Time
XP Reward
War Academy Level
1
8,500
Single target
2,590
-
-
-
4
2
10,500
4,200
4,000,000
5d 10h
1,315
5
3
13,000
5,000
6,000,000
9d
1,630
6
4
15,500
5,750
7,200,000
10d
1,845
7
5
18,000
6,330
8,400,000
11d
1,945
8