The Dongzhi Festival Event is now underway! During this limited time event, Farms, Caravans, and Oil Wells are producing 80% more resources. (from 15:00 UTC 1/21/2019 until 15:00 UTC 1/28/2019.)
Farms, Caravans, and Oil Wells are producing 80% more resources for a limited time! Grow your city and make changes for the better in the spirit of the Dongzhi Festival, fifth of six winter holidays! (Event lasts from 15:00 UTC 1/21/2019 until 15:00 UTC 1/28/2019.)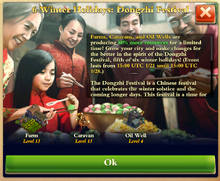 Historical Description
Edit
The Dongzhi Festival is a Chinese festival that celebrates the winter solstice and the coming longer days. This festival is a time for families to come together, reflect on the previous year, and commit to better themselves on the coming year. During the festival, families will gather to make and eat tangyuan, which are a round rice dumpling that is now commonly filled with sweet flavors and served as desert. The tradition of eating dumplings during the Dongzhi Festival is attributed to Zhang Zhongjing, a renowned physician from the Han dynasty. It is said that he saw poor children who were suffering from the cold and was inspired to create a 'dumpling soup that expels the cold.' To follow this example, it is often tradition for more wealthy individuals to give warm food to the less fortunate.
Community content is available under
CC-BY-SA
unless otherwise noted.