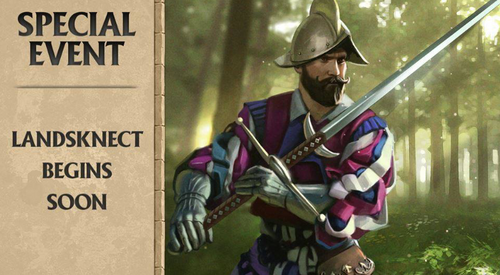 Forged in Fire: Landsknecht is a 7-days event. There is a total of 5 steps.The 5 steps tell that you need to destroy enemy Army Buildings such as Barracks, Blacksmiths, and Command Post in Multiplayer Battle and World War. This event started from 14:00 UTC 9/27/2018 until 14:00 UTC 10/02/2018.
Historical Description
Edit
Forged in Fire is an original competition series on the History Channel. The show is hosted by weapons expert and U.S. Army and Air Force veteran Wil Willis. Each episode tests four of the nation's most skilled bladesmiths as they craft history's most iconic weapons. The Landsknecht Zweihander, which aired on September 26, 2018, features the iconic Landsknecht Zweihander sword.
More information regarding the Black Band Mercenary: The Black Band were a group of German Landsknecht mercenaries in the 16th century who fought in the French Army. They served in many engagements such as the Battle of Marignani and the Battle of Pavia, both of which were part of the Italian Wars which ran from 1521 to 1526. The Black Band was first formed as the Black Guard in 1514 to fight in East Frisia against Edzard I in the Saxon feud. They went to Italy in 1915 to fight alongside King Francis I against the Swiss in the battle of Marignano. The Black Band included 2,000 soldiers trained in the use of a huge two-handed sword known as the Zweihander. These swords were developed in the late Middle Ages and were the standard weapon for the German Landsknecht. While classified as a sword, Zweihanders held many characteristics of a polearm due to their length and how they were carried over the shoulder without sheath.
How many army buildings can you destroy?
Objective
Edit
Step 1: Destroy 13 Army Buildings
Step 2: Destroy 125 Army Buildings
Step 3: Destroy 235 Army Buildings
Step 4: Destroy 360 Army Buildings
Step 5: Destroy 525 Army Buildings
*Reward amount depends on age. The value above displayed in Cold War Age.
Community content is available under
CC-BY-SA
unless otherwise noted.