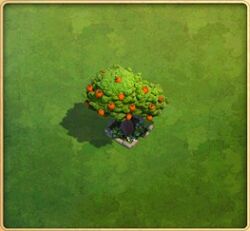 "Fruit trees - a cheap and convenient way to grow extra food!"
Description
Edit
The Fruit Tree provides food for the player.
You already have 3 Fruit Trees at the start of the game. The 4th one has to be purchased with Gold. Additionally, the Pottery technology allows you to purchase 4 additional Fruit Trees.
The time to replenish increases every time you upgrade your Town Center.
The Fruit Tree has a chance to produce Cider every time you collect from your tree.
You can use Crowns to ripen the Fruit Trees, allowing you to harvest them at once.
A Fruit Tree has the size of 1x1.
Statistics
Edit
Number
Cost

(gold)

Time
Citizens Required
1
-
-
-
2
-
-
-
3
-
-
-
4
5
6
7
250,000
0 sec
0
8
550,000
0 sec
0
The Pottery Technology at the Library confers these bonuses to Fruit Trees
Chapter 1: +5% Resources from Fruit Trees and Gold Mines
Chapter 3: +2 Fruit Tree limit
Chapter 4: +20% Resources from Fruit Trees and Gold Mines
Chapter 5: +2 Fruit Trees limit
The Hanging Gardens wonder confers these bonuses to Fruit Trees
Collection time: -50%
Regeneration time: -20%
Gather amount: +20%
Emperor Moctezuma in the University confers these bonuses to Fruit Trees
Mining & Gathering Time: Decrease time to harvest from Fruit Trees and Gold Mines by +18% (5 levels)
Mining & Gathering Yield: +20% resources gained from Fruit Trees and Gold Mines (5 levels)