"Increases the resources gained from nearby fruit trees and gold mines. Increases the frequency that they can be gathered from."
The Hanging Gardens is one of four wonders unlocked in the Bronze Age.
General Information
[
]
Statistics
[
]
| | |
| --- | --- |
| Collect Time | -50% |
| Regeneration Time | -20% |
| Gather Amount | +20% |
| Range | 6 Squares from building's edge. |
For building's other statistics see Wonders.
Historical Description
[
]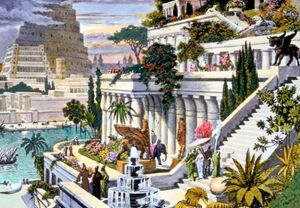 The Hanging Gardens of Babylon were constructed by King Nebuchadnezzar, according to legend, as a gift to his wife, Amytis of Medes. Living in the flat desert terrain of Babylon, Amytis pined for the green mountains of her home, and Nebuchadnezzar built the Hanging Gardens to comfort her. According to the writers of the day, the Gardens were an astonishing sight, a series of terraces on huge pillars, covered with vibrant green plants and trees. Babylon being an arid desert with little rainfall, water had to be constantly drawn from the Euphrates river and moved to the top of the structure by ingenious bucket chains powered by slaves. The fate of the Gardens is unknown - some archaeologists speculate that it was destroyed in an earthquake in the 2nd century BCE.