Heavy Infantry, also known as Assault Infantry is the first type of Troops to use for the player in DomiNations. They're excellent against buildings and cavalry but are weak against other infantry and catapults. They're unlocked in the Dawn Age.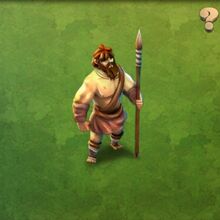 General Information
[
]
The standard Heavy Infantry's default A.I. or purpose is to destroy the closest building (excluding walls) but when attacked by an enemy troop; will fight back. They're excellent at taking down defensive Heavy Cavalry (noticeably on cavalry at an age lower than them) and are able to destroy buildings quickly. However, their disadvantages are that they have low health meaning that they can be killed very quickly. They can get destroyed easily by Splash Damage Structures such as Catapults or Mortars and Multiple Target Damage Structures such as Redoubt or Machine Gun. They are also weak against other Heavy Infantry (and even Ranged Infanty} spawned by the City Center, Garrisons, Ambush Traps etc.
The German and Japanese unique Heavy Infantry unit have 20% more damage than standard Heavy Infantry troops. The Roman Heavy Infantry unit has 25% more health than standard Heavy Infantry troops.
Heavy Infantry takes up 1 space in the barracks. They are trained in 35 seconds (28 if you are playing as the French). They are melee until they're upgraded to the Enlightenment Age version of the unit. They have the range of 1.5. (Formerly a range of 3 meaning that they used to shoot over the walls like the ranged Infantry Archers)
Visuals
[
]
Statistics
[
]
Default Units
[
]
Press [Expand] to see the full table.
Level
Name
Age
HP
DPS
DPS vs. Infantry
Range
Cost
Upgrade Cost 
Upgrade Time
Experience Gain
1
Spearman
Dawn Age
220
25
6
Melee
25
-
-
-
2
Warrior
Stone Age
235
35
8
30
800
15m
45
3
Soldier
Bronze Age
240
40
10
50
4,000
2h
135
4
Hoplite
Iron Age
250
50
12
60
40,000
4h
195
5
Phalanx
Classical Age
338
75
18
110
175,000
12h
355
6
Pikeman
Medieval Age
351
135
33
170
500,000
1d
520
7
Halberdier
Gunpowder Age
364
192
48
260
2,200,000
2d
760
8
Fusilier
Enlightenment Age
390
200
50
1.5
370
4,000.000
4d
1,115
9
Shock Infantry
Industrial Age
520
239
59
460
6,000,000
8d
1,630
10
Assault Infantry
Global Age
600
263
65
540
7,500,000
10d
1,845
11
Elite Infantry
Atomic Age
750
290
72
620
8,750,000
12d
2,040
12
Valiant Infantry
Cold War Age
795
307
76
730
12,900,000
13d
2,130
13
Expert Infantry
Space Age
835
323
80
820
?
14d
2,220
14
Honored Infantry
Digital Age
1,403?
612?
183?
910
15,000,000
15d
2,200?
15
Advanced Infantry
Information Age
?
?
?
1,000
16,500,000
16d
2,270?
Unique Units (Stats before Research Upgrades)
[
]
Boosts
[
]
The Cast Iron Technology at the Library confers these bonuses to Heavy Infantry:
Increases Heavy Infantry attack by 10%
Increases Heavy Infantry health by 10%
Increases Heavy Infantry attack against defender infantry by 20%
The Standing Army Technology at the Library confers these bonuses to the Heavy Infantry:
Chapter 4: +10% Barracks Troops' attack (or Healing) and health
The Chivalry Technology at the Library confers these bonuses to the Heavy Infantry:
Chapter 1: +10% Heavy Infantry health
The research of Catherine the Great in the University confers the following bonuses to the Heavy Infantry:
Heavy Infantry Damage: +3% Heavy Infantry Damage (10 levels)
Heavy Infantry Hitpoints: +3% Heavy Infantry Hitpoints (10 levels)
The Versailles wonder confers these bonuses to the Heavy Infantry:
Hitpoint boost to both your attacking and defending troops: 10%
The Heritage at the Library Chapter 1 increases the hitpoint bonus from +10% to +11%.
Attacking Strategies
[
]
If these units are used in large groups and not in heavy fire; then they can be devastating and can destroy a base easily.
Catapults or Mortars, with their splash damage, are devastating against these units and can kill a group of them in a few hits if in the range of the impact. Spread the units around so that the mortar would have to hit each infantry to kill it and that its impact would not affect other infantry as well or deploy a few Heavy Cavalry to destroy it.
Redoubts or Machine Guns (Building) can likewise be devastating against these units, if it is not dealt with appropriately. Keep the units away from it until it is destroyed or position them to destroy it quickly.
Missile Silo can elemininate a group of these units quickly. Don't group them together so much that will attract the Silo attacks. Or deploy them after the Silo is destroyed, sabotaged or distracted by other units with high HP.
They can be used as a distraction for many defenses and can help protect ranged infantry such as riflemen from heavy fire from defenses.
A group of them can easily overwhelm single target defensive towers but are vulnerable against Machine Gun (Building).
Defensive Strategies
[
]
The Garrison can train up Heavy Infantrys to help defend the village from attackers. Put the garrison defended and inside walls. That way, the garrison can train Heavy Infantrys without getting attacked for a short amount of time. It is suggested that a garrison should be close to the Acropolis since training Heavy Infantrys would be more quicker than usual.
The Ambush Trap deploys Heavy Infantrys when triggered by enemy troops are too close to it. It is suggested to put in areas where enemies may deploy in Heavy Cavalry.
Trivia
[
]
Soldiers on foot, called infantry, typically made up the bulk of most armies throughout history. Infantry has always been required to capture and occupy territory.