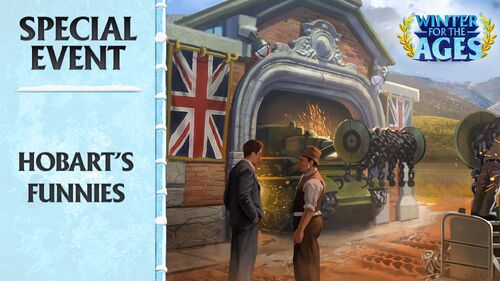 Win stars in Multiplayer Battle and World War to earn a slew of powerful tanks, including all-new Super Heavy Tanks, the T28 and the Char 2C!
Historical Description
Edit
During World War II, the Allies saw first-hand at Dieppe the need to quickly and safely land troops at entrenched Axis positions. British Major-General Sir Percy Hobart was tasked with developing the technology and strategies that would help Allied forces overtake German coastal strongholds during Operation Overlord -- the codename for D-Day -- and subsequent marine invasions.
One of Hobart's best remembered developments, the Sherman Crab Tank with its mine-detonating flails, was based on a South African design by Major A.S.J. du Toit. Other innovations included the Buffalo Amphibian, CDL, AVRE, and Bobbin carpet layer. These modified tanks were collectively known as Hobart's Funnies. Their unorthodox features and designs prove that solutions for battlefield problems often come from unconventional approaches.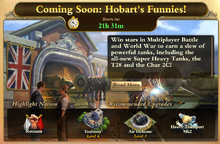 Objective
Edit
Earn stars in Multiplayer Battle and 2x stars in World War
Step 1: Earn 5 Stars
Step 2: Earn 85 Stars
Step 3: Earn 150 Stars
Step 4: Earn 230 Stars
Step 5: Earn 320 Stars
*Reward amount depends on age. The value above displayed in Cold War Age.
Community content is available under
CC-BY-SA
unless otherwise noted.