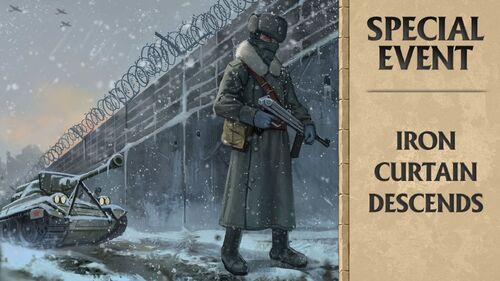 The Iron Curtain Descends soon! Repel your enemies with 25% cheaper Barracks, Castle, Stronghold, and Temple building upgrades. Heavy Tank, Raider, and Heavy Infantry troop upgrades are also 33% off ! (From 15:00 UTC 2/22/2019 until 15:00 UTC 2/25/2019.)
Repel even the most aggressive superpowers with 25% cheaper Barracks, Castle, Stronghold, and Temple building upgrades! Heavy Tank, Raider, and Heavy Infantry troop upgrades are also 33% off for a limited time! (Event lasts from 15:00 UTC 2/22/2019 until 15:00 UTC 2/25/2019.)
Historical Description
Edit
In 1946 Winston Churchill famously declared that an 'Iron Curtain' had descended across Europe, separating capitalist and communist-aligned nations. Though it was just a figure of speech at the time, the Iron Curtain eventually materialized into physical barriers like the Berlin Wall. The 96 mile-long concrete structure split the capital of Germany in two for twenty-eight years. It was lined with barbed wire, guard towers, bunkers, trenches, dog runs, and minefields.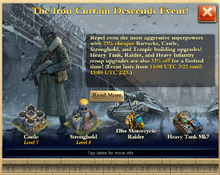 Community content is available under
CC-BY-SA
unless otherwise noted.