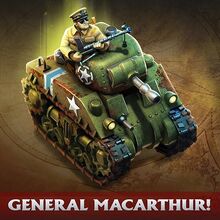 "General MacArthur was a five-star general in the American army and played a large role in three major wars: the Western Front of World War I, the Pacific theater of World War II, and led the United Nations Command in the Korean War"
Description
[
]
General MacArthur is the 6th General available to players, unlocked after upgrading the Castle to level 4 in the Industrial Age.
Historical Description
[
]
"MacArthur (1880-1964) Few officers of the United States armed forces have achieved such distinction - or notoriety - as General Douglas MacArthur. He participated in all three major wars of the first half of the 20th Century, from WWI to Korea, but is best known for his role in the Pacific Theater of World War II. His defense of the Philippines could not slow the initial Japanese advance in the weeks after Pearl Harbor, but three years later he waded ashore at Leyte, famously proclaiming, "I have returned." After the war, MacArthur oversaw the rebuilding of Japan, including the new Constitution with a commitment to pacifism and a groundbreaking gender-equity clause. During the Korean War, he became Commander-in-Chief of the United Nations forces, where he executed the daring amphibious assault at Incheon to cut the enemy's supply lines. Eventually relieved for his perceived insubordination, MacArthur gave a final speech to the US Congress, where he declared 'old soldiers never die; they just fade away.'"
Attacking Strategies
[
]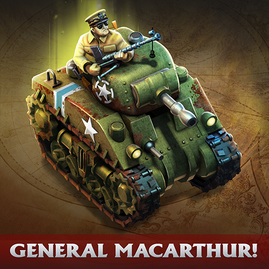 MacArthur can tank up defensive damage and deal damage to enemy defenses/Troops.
If you are attacking without Tanks with your Troops, MacArthur can take up some of the damage, and is best used to take out Mortar fire. Beware not to rally your troops with MacArthur to a Mortar that can still hit your troops, since MacArthur will be the only one left alive.
Statistics
[
]
Level
Castle Level

Required

HP
DPS
DPS Vs.

Generals

Range
Upgrade Cost
Upgrade

Time

XP

Gain

1
4
9,000
413
2,478
3
-
-
-
2
9,188
421
2,526
3,375
8h
285
3
9,375
430
2,580
7,500
4
9,563
439
2,634
11,250
5
9,788
450
2,700
15,000
6
10,388
473
2,838
18,750
16h
420
7
10,613
484
2,903
22,500
8
10,838
495
2,970
30,000
9
11,063
506
3,036
37,500
10
11,325
518
3,108
40,000
11
12,000
549
3,294
41,000
2d
520
12
12,263
561
3,365
42,000
13
12,525
574
3,443
43,000
14
12,788
586
3,516
44,000
15
13,106
600
3,600
45,000
16
13,856
638
3,828
46,000
760
17
14,175
651
3,905
47,000
18
14,494
665
3,990
48,000
19
14,813
679
4,074
49,000
20
15,188
693
4,158
50,000
21
16,088
736
4,416
55,000
3d
950
22
16,463
753
4,518
60,000
23
16,838
769
4,614
65,000
24
17,213
785
4,710
70,000
25
17,663
804
4,823
75,000
26
18,713
854
5,123
80,000
27
19,163
873
5,238
85,000
28
19,613
891
5,345
90,000
29
20,063
910
5,460
95,000
30
20,588
931
5,586
100,000
31
5
21,863
988
5,928
110,000
4d
1,112
32
22,388
1,015
6,090
120,000
33
22,913
1,043
6,258
130,000
34
23,438
1,070
6,420
140,000
35
23,963
1,098
6,588
150,000
36
25,388
1,160
6,960
160,000
37
25,988
1,189
7,134
170,000
38
26,588
1,218
7,308
180,000
39
27,188
1,246
7,476
190,000
40
27,788
1,275
7,650
200,000
41
6
29,363
1,344
8,063
205,000
5d
1,260
42
30,188
1,379
8,274
210,000
43
31,013
1,414
8,483
215,000
44
31,838
1,449
8,694
220,000
45
32,663
1,484
8,903
225,000
46
34,313
1,559
9,354
230,000
47
35,213
1,600
9,600
235,000
48
36,113
1,641
9,845
240,000
49
37,013
1,683
10,098
245,000
50
37,913
1,724
10,343
250,000
51
7
39,713
1,811
10,865
251,000
6d
1,395
52
40,688
1,859
11,154
252,000
53
41,663
1,906
11,436
253,000
54
42,638
1,954
11,723
254,000
55
43,613
2,001
12,005
255,000
56
45,638
2,101
12,605
256,000
57
46,763
2,156
12,935
257,000
58
47,888
2,211
13,265
258,000
59
49,013
2,266
13,596
259,000
60
50,138
2,321
13,925
260,000
61
8
51,263
2,376
14,256
261,000
7d4h48m
62
52,388
2,431
14,585
262,000
63
53,513
2,486
14,916
263,000
64
54,638
2,541
15,245
264,000
65
55,763
2,596
15,576
265,000
66
56,888
2,651
15,905
266,000
67
58,013
2,706
16,236
267,000
68
59,138
2,761
16,565
268,000
69
60,263
2,816
16,896
269,000
70
61,388
2,871
17,225
270,000
Universal General Bonuses
[
]
Trivia
[
]
Douglas MacArthur was born on January 26, 1880, at the Little Rock Barracks in Arkansas.
From 1919 to 1922 Douglas MacArthur served as the superintendent of West Point and instituted a variety of reforms intended to modernize the school.
In 1930 President Herbert Hoover (1874-1964) named MacArthur chief of staff of the Army, with the rank of general.
In April 1942, MacArthur was appointed supreme commander of Allied forces in the Southwest Pacific and awarded the Medal of Honor for his defense of the Philippines.
On April 11, 1951, Truman removed MacArthur from his command for insubordination. In an address to Americans that day, the president stated, "I believe that we must try to limit the war to Korea for these vital reasons: To make sure that the precious lives of our fighting men are not wasted; to see that the security of our country and the free world is not needlessly jeopardized; and to prevent a third world war." MacArthur had been fired, he said, "so that there would be no doubt or confusion as to the real purpose and aim of our policy."
[

]