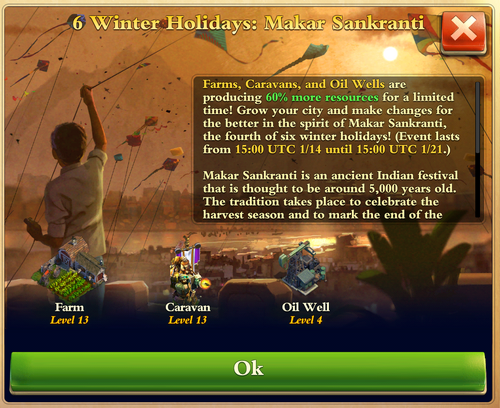 The 6 Winter Holidays: Makar Sankranti Event begins soon! For a limited time Farms, Caravans, and Oil Wells are producing 60% more resources for a limited time! Grow your city and make changes for the better in the spirit of Makar Sankranti, the fourth of six winter holidays! (Event lasts from 15:00 UTC 1/14/2019 until 15:00 UTC 1/21/2019.)
Historical Description
Edit
Makar Sankranti is an ancient Indian festival that is thought to be around 5,000 years old. The tradition takes place to celebrate the harvest season and to mark the end of the month with the winter solstice. It is one of the few Indian festivals revolving around the solar cycles, as most are set by the lunar cycle. Makar Sankranti is celebrated with elaborate and colorful decorations and social festivities. Known as the festival of kites, people gather to fly kites early in the morning when the sun is thought to provide nourishment to the body and clear bad bacteria.
Community content is available under
CC-BY-SA
unless otherwise noted.