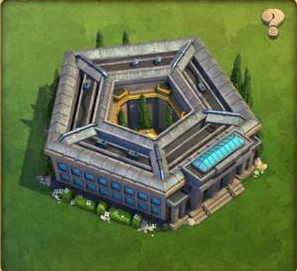 "Airstrip troops train 20% faster. Assign an extra General to the Pentagon for defense."
The Pentagon is one of four wonders unlocked in the Atomic Age.
Reduces Airstrip's units training / constructing time by 20%.
Assign an extra General to the Pentagon for defense.
For building's statistics see Wonders.
The Pentagon is the headquarters of the United States Department of Defense, located in Arlington County, Virginia, across the Potomac River from Washington, D.C.As a symbol of the U.S. military, The Pentagon is often used metonymically to refer to the U.S. Department of Defense.
The Pentagon was designed by American architect George Bergstrom (1876–1955), and built by general contractor John McShain of Philadelphia. Ground was broken for construction on September 11, 1941, and the building was dedicated on January 15, 1943. General Brehon Somervell provided the major motive power behind the project;[4] Colonel Leslie Groves was responsible for overseeing the project for the U.S. Army.
Community content is available under
CC-BY-SA
unless otherwise noted.