1st Event
Edit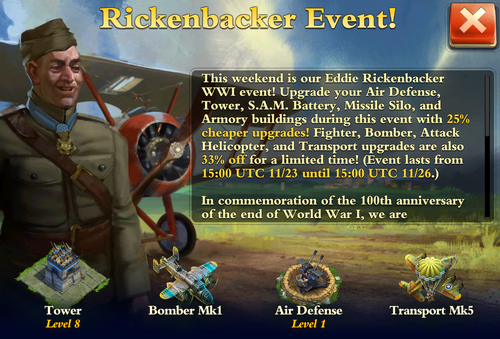 This weekend is our Eddie Rickenbacker WWI event! Upgrade your Air Defense, Tower, S.A.M. Battery, Missile Silo, and Armory buildings during this event with 25% cheaper upgrades! Fighter, Bomber, Attack Helicopter, and Transport upgrades are also 33% off for a limited time! (Event lasts from 15:00 UTC 11/23/2018 until 15:00 UTC 11/26/2018.)
2nd Event
Edit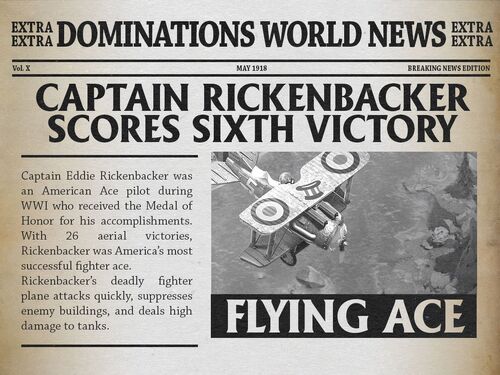 he Eddie Rickenbacker event is almost here! For a limited time, upgrade your Air Defense, Tower, S.A.M. Battery, and Armory buildings with 25% cheaper upgrades. (from 15:00 UTC 2/8/2019 until 15:00 UTC 2/11/2019)
Historical Description
Edit
In commemoration of the 100th anniversary of the end of World War I, we are celebrating Captain Eddie Rickenbacker of the United States Air Force!
Rickenbacker was an American fighter ace during World War I, achieving 26 aerial victories throughout his career. On September 25th, 1918, while on a solo patrol, Rickenbacker spotted a group of (RS Novae MDC Maram rel oe Me Ct som le lCelaals group of planes and managed to shoot two of them down. His aggressive actions that day earned him the French Croix de Guerre and later, in 1930, the Medal of Honor. His numerous awards and many aerial victories made him the most successful American fighter pilot during World War I.
Community content is available under
CC-BY-SA
unless otherwise noted.