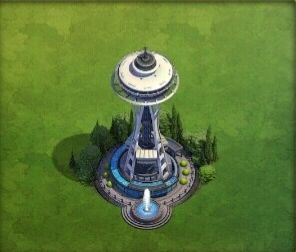 "Reduces University skill research time by 10%. Activate to reset all other Wonder cooldowns once per week."
The Space Needle is one of four wonders unlocked in the Atomic Age.
General Information
[
]
Reduces university skill research time by 10%.
Provides a cooldown to Reset Other Wonders once every 7 days.
Before August 2020, this wonder was named the Atomium. The name change was related to copyright issues.
Statistics
[
]
| | |
| --- | --- |
| Size | 5x5 squares |
| University Skill Research Time | -10% |
| Cooldown to Reset other Wonders | 7d |
For building's other statistics see Wonders.
Historical Description
[
]
Considered to be the icon of the city of Seattle as well as the entire Pacific Northwest, the Space Needle, standing at six hundred and five feet tall was once the tallest structure west of the Mississippi River.
Built for the 1962 World's Fair, it's design was a combination of the ideas from two architects; Edward E. Carlson had a sketch of a giant ballon tethered to the ground whereas John Graham had the concept of a giant flying saucer. These two ideas came together to give the Space Needle it's sloping design as well as the shape of it's revolving observation deck.
The elevator that takes visitors from the ground up to the observation deck travels at ten miles per hour and reaches the top in forty one seconds.