The Ultimate Tactician Event begins soon! For a limited time, enjoy 50% off resources on all of Hannibal Barca's University skills. (from 14:00 UTC 3/12/2019 until 14:00 UTC 3/19/2019.)
Go to your University and enjoy 50% off resources on all of Hannibal Barca's University skills for a limited time! Upgrade the University for 25% cheaper during the event! (Event lasts from 14:00 UTC 3/12/2019 until 14:00 UTC 3/19/2019.)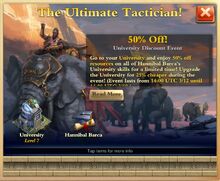 Historical Description
Edit
Hannibal Barca was a Carthaginian general who lived during the Punic Wars in the second and third centuries BCE. Mononymously known as Hannibal, he was born into a military family and made to swear eternal hatred for Rome, Carthage's greatest enemy. Hannibal was victorious in numerous battles during the Second Punic War, including the Battle of Trebia, the Battle of Lake Trasimene, and the Battle of Cannae. Hannibal was truly 'The Ultimate Tactician' when he utilized the double envelopment military maneuver during the Battle of Cannae by attacking both sides of the Roman formation that had been attacking Hannibal's forces directly.
Community content is available under
CC-BY-SA
unless otherwise noted.