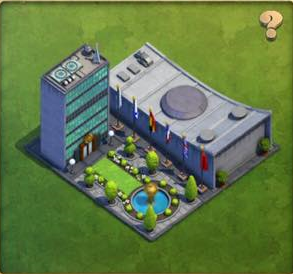 "Collect 3 national trade goods once per day. Deploy a peacekeeping force when destroyed on defense."
The United Nations is one of four wonders unlocked in the Atomic Age.
The headquarters of the United Nations is a complex in New York City designed by Brazilian architect Oscar Niemeyer. The complex has served as the official headquarters of the United Nations since its completion in 1952. It is located in the Turtle Bay neighborhood of Manhattan, on spacious grounds overlooking the East River. Its borders are First Avenue on the west, East 42nd Street to the south, East 48th Street on the north and the East River to the east. The term "Turtle Bay" is occasionally used as a metonym for the UN headquarters or for the United Nations as a whole.
Although it is situated in New York City, the land occupied by the United Nations Headquarters and the spaces of buildings that it rents are under the sole administration of the United Nations and not the U.S. government. They are technically extraterritorial through a treaty agreement with the U.S. government. However, in exchange for local police, fire protection and other services, the United Nations agrees to acknowledge most local, state, and federal laws.
For building's statistics see Wonders.
Community content is available under
CC-BY-SA
unless otherwise noted.