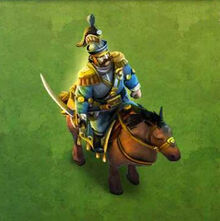 Hello DomiNations! Wiki, I am Mr. RTS, also known as FroggyKilla in-game. Yes, I am a person. No, I don't kill frogs.
I play as the:
I am in:
I have these troops:
Pikemen
Crossbowman
Heavy Cavalry Raider
Elite Chevalier
Veteran Wall Miner
Ballista
Supply Cart
Alexander (Level 5)
Cleopatra (Level 5)
I have these Wonders
Hanging Gardens
Notre Dame
Versailles
Brandenburg Gate (soon)
Versailles is an essential for French players and Brandenburg Gate is an amazing wonders because I am afraid of Bunkers.
Cannot wait to play the rest of this game! But before they do the remaining ages (Global Age, Space Age), I want to make sure it is done right.
My favorite pages
Edit
I don't have a favorite page. But I can tell you I do blogs, which can include your favorites.
Future Blogs
Edit
Not doing these because I have a forum account (Same as my IGN), and Notability to store all my stuff to then implement once this game actually becomes stable.
Community content is available under
CC-BY-SA
unless otherwise noted.