"This luxurious Villa supports three citizens - allowing you to do even more things!"
General Information
Edit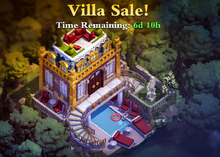 This temporary buildings bought at limited time sale. It will provide 3 additional Citizens and exist only until certain date of time. The Villa can be bought at the Tier 3 of Villa Sale.
Villa Sale:
Tier 1: Green Jacket Rifleman Army x 5
Tier 2: Speedups x 20
Tier 3: Villa x 1 (expire until certain date)
Statistic
Edit
The hitpoints differ between Ages.
| Level | HP |
| --- | --- |
| 1 | 1,520 |
| 2 | 2,155 |
| 3 | 2,370 |
| 4 | 3,620 |
| 5 | 3,985 |
| 6 | 4,380 |
| 7 | 4,820 |
| 8 | 5,300 |