Farms, Caravans, and Oil Wells are producing 20% more resources for a limited time! Grow your city and make changes for the better in the spirit of Yule, the first of six winter holidays! (Event lasts from 15:00 UTC 12/24/2018 until 15:00 UTC 12/31/2018.)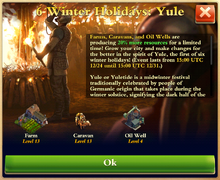 Historical Description
Edit
Yule or Yuletide is a midwinter festival traditionally celebrated by people of Germanic origin that takes place during the winter solstice, signifying the dark half of the year succumbing to the light returning from the sun. Yule has been associated with the folklore of the European Wild Hunt, a ghostly group of hunters passing in wild pursuit of their prey, and the Norse god Odin. Some traditions in Christmastide have their origins in Yuletide such as the burning of the Yule log, the sacrifice and consumption of the Yule boar, Yule singing, the colors of red, green, and gold, mistletoe, the giving of gifts, and the Twelve Days of Christmas.
Community content is available under
CC-BY-SA
unless otherwise noted.